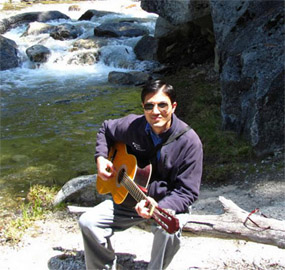 I want to share a little incident that has baffled me for a while now, although I never quite gave it much attention, but still want to throw it out there.
I want to share a tune that I recorded in September 2006. I had just started learning Guitar on my own and at that time I only knew how to play couple chords and had merely been playing for 2-3 months. This was 2 years before I even knew who Anna Singt was. For those who don't know – Anna Singt is an Acoustic German band started by Anna Ratsch-Heitmann.
I downloaded her song in May 2008, which was originally released in 2002. Now what's interesting is that I did not even hear her song until 2008. AND THAT is what has baffled me for a long time and I have no answers for it.
Could it be a pure co-incidence..that I recorded a similar tune or atleast the intro?
Here are the first 60 seconds of the piece that I recorded while practising D minor chord in Sept. 2006.
[audio:http://gdhar.com/uploads/Gautam%20Dhar%20-%20D%20Minor.mp3]
Here is the beginning of Anna's Song "Stay on your own" with uncanny resemblance to my piece. (AGAIN, I had never heard this song before 2008).
[audio:http://gdhar.com/uploads/Anna%20Singt%20-%20Stay%20On%20Your%20Own.mp3]
P.S. I consulted many experts on this and it was established that:
Many thousands of people trying out variations on a very limited number of chords/notes. So it is a plausible coincidence.
"The only thing I can make of it is that "it" is in the air and I, with some other person grabbed it out of the ether…….that is my explanation".